Gift of Life
Kim was known by all as a giver when she was alive. She just loved to help people, even in death, she gave. Through the Gift of Life, Kimberly was able to give a part of herself to others. While Kim was not able to give any of her vital organs, what she was able to give will help 50 people. This includes her beautiful eyes, which have helped 2 people to see.
Gift of Life had a dedication ceremony for the donors' families. A family could donate a patch quilt on their love ones and write about that person. The Gift of Love Quilt has been completed and will be on display at different functions across the United States.
The picture below (also seen on this site's homepage) is a picture of the quilt and the story of Kim that was shared with the Gift of Life: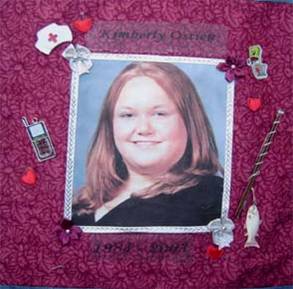 We were blessed with a beautiful daughter on December 26, 1984. Kim was a character. She loved to make people laugh. In high school she was known to cheer people up when they were feeling down. The colors of the quilt represent her high school colors, garnet and gray. She loved attending Archbishop Prendergast High School. She excelled in high school and made many friends. We've included a few things Kim loved to do on the quilt. She was always on the cell phone talking. Her favorite TV shore and cartoon character was SpongeBob Squarepants. For Halloween she was SpongeBob. She had a Spongebob blanket, pillow, calendar and slippers. On her senior prom she rolled out of the limo with Spongebob slippers in her hand and wearing sunglasses. She loved to go deep sea fishing with her Dad when we went to Hilton Head Island, SC. Of course, she loved kids and helping people and wanted to be a pediatric nurse. That dream was short lived. The hearts represent the love she had for people and life and it also represents our everlasting love for her.
Kim was born into eternal life on November 25, 2003. She was our angel on earth and she is now our angel in heaven.

Kim's Personal Gift of Life Page
Visit the Gift of Life website at giftoflife.org
Donations
Donations are graciously accepted and support the Kimberly Ostien Memorial Scholarship at Archbishop Prendergast High School.
Please send donations to:
Kim's Awareness
c/o The Ostien Family
230 Josephs Way.
Malvern, PA 19355
2018 KYMBO Golf Outing
The 15th Annual Kymbo Golf Outing will be held on Saturday June 2, 2018 at Cobbs Creek Golf Course.